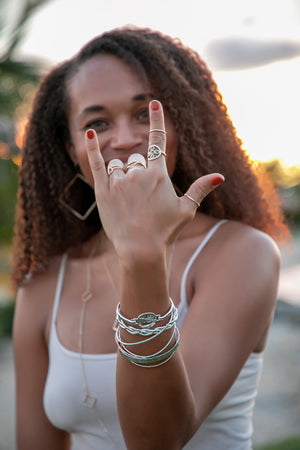 MOM is a Reflection of WOW
It's not always easy to shop for Mom, but luckily you have us! We are here to give you the hottest ideas for your patner, Mother, Grandmother, or your best friend that is a Mom too!
hot off the runway
The Gift of Eternal Joy
Following life's own blueprint for creation, The ETERNAL JOY collection is designed to deliver joy, healing, love, and positive change to the world. 
Wearing these jewels will help you generate growth, balance, and transformation. Just as sure as the earth turns; shapes in motion generate energy flow. The energy of this collection flows outward as it spins; similar to the rings spreading outward from tossing a stone into a lake. Set your intention and create a ripple effect of positive energy wherever you go.
Spin it and let's radiate JOY together!
hot off the runway
The Gift of Intention
Your Life Path Number is key to understanding and fulfilling your Life's purpose or mission during this lifetime. It symbolizes the talents, unique gifts, and tendencies you were born with and points to the strengths you will gain as you overcome challenges, learn karmic lessons, and evolve along your Life Path. Living in sync with your Life Path Number will heal your wounds, fulfill your heart, improve your relationships, and provide the ways and means to embrace your JOY and openly share it with others. The Life Path Number is the "reduced sum" of all the digits of your birth date—month, day, and year.
This is one of the most meaningful gifts you can give someone...just give us your loved one's birthday and we will do the rest...
The Gift of You
Add a birthstone to one of our stacking rings or an engravable charms. This necklace was custom made for my Stepmom, Jennifer, with her grandkids names! It's the perfect way to keep your loved ones close at heart even if they live far away.  You can also add engravable charms to our Triple Bangle Set as well! 
hot off the runway
The Gift of Life
The Seeds of Life collection represents the goodness in all aspects of your life. There is a seed in each of the four directions and one in the center for grounding. Wear this symbol to connect you with the heart of existence.
The Gift of JOY
Chain Bracelets are here... it's time to manifest the good stuff!  Now ALL of our collections, new and old, are offered on a chain.  These delicate yet strong bracelets help you bring forth the POWERS in your life you want to GROW.  Pick your intention for this year by choosing your favorite gemstone, Joyia charm, or get them all!
 Don't forget to share with a friend...couldn't we all use an energetic boost right now?!
These are great gifts for your children too!
hot off the runway
The Gift of Celebration
Champagne represents the decadence and effervescence of life's major milestones. Most people believe bubbles are for special occasions, we believe that every day is special. So, dance, laugh and love because LIFE is worth celebrating!
Gift to your loved ones to remind them that life is something to celebrate everyday.
hot off the runway
The Gift of Embracing The Journey
What path are you on? Sometimes it's straight and defined and sometimes you have to make a pit stop, change directions or swerve. Every twist and every turn was necessary for the next step on your journey to this present moment. Whatever the path...it's yours to make.