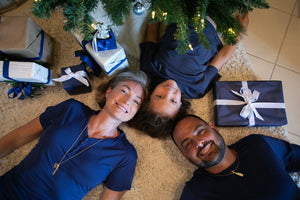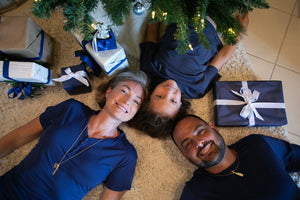 Deliver JOYia this holiday season
Join and become a VIP
Get a FREE engravable charm with your first online purchase!
The world is a bit insane right now and this creates a collective feeling of discomfort that we can all identify with…that feeling of survival mode.  
Just as food is nourishment for your body, JOY is nourishment for your soul. We want to guide you to your joy and the life you are meant to live.
We create jewelry infused with hope, growth and the power to build and rise to your true potential.
Let us help you thrive.
ONCE YOU FEEL JOY, YOU CAN SHARE JOY
AS SEEN IN
Our Signature Collections
The Heart and Soul Behind Joyia Jewelry
Our son, Achille's, roots run deep as a fifth generation Crucian, and our latest design, the Island Roots, pays homage to a family rich in love, loyalty, and life.

Inspired by the roots of a mangrove, this design and his heritage embody strength, endurance, pride and respect – just like his people!
I own many beautiful Joyia pieces - this beauty was for my daughter and it stacks with a ring she already owns. It's elegant, sophisticated and definitely made with 💕

Ann B.
Joyia helped me find the perfect gift for my wife. Such a beautiful piece of Jewelry and a reminder of St Croix! It's was great meeting you and Carlos! God Bless y'all, take care🙏

Chris M.
Just yesterday I put it on and was complimented on it. It's a go-to pendant, pairs well with any outfit. A unique piece of wearable art. And a reminder of the many good times I have has in St Croix!

Linda G.
I wear my customized necklace everyday.. never take it off! I also get so many compliments on it :) since it's Larimar the people who know it's from the Caribbean I make sure to tell them where I got it just in case they visit St Croix

Gabrielle M.
On our initial visit, we were privileged to meet and chat with Joyia. I now have a new favorite jewelry store in St Croix. The products are exceptional as are the people who work there. I highly recommend checking out this store.

Ann M.
We put love and intention into every piece of jewelry we create.
We make charm bracelets for your newborn babies, graduation gifts for their teenage milestones, custom pieces of jewelry using your family heirlooms that can be passed down for lifetimes and everything in between. You are a part of our family now and we are here for all of  your life's milestones, past, present and future. 
You are uniquely you, and your jewelry should be too.
When you find your Tribe, love them hard! Good girlfriends are there when you don't even know you need them.

Honor your friendships with engraveable charm bangles, stack them up for birthdays, bridesmaid gifts, girls trips or just because she deserves them.
Find your inspirational words, gems that speak to your desires and honor the beauty, achievements, and challenges life tosses your way. Throw on your necklace before you walk out the door; look who's empowered and ready to face the day!