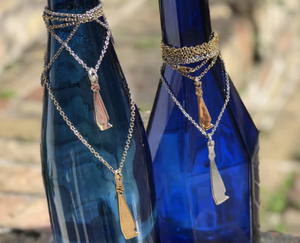 Well friends, quite often as a designer, you make something for yourself and then everyone see it and wants one. That is exactly what happened with the
Carlo is a fourth generation Crucian and spent many days on his Great Grandmother's plantation out west.  Many of you know it as Prosperity located on Mahogany Road in St. Croix.  The Sugar Cane Machete is special because it has a hook at the end for pulling the cane after it's been cut.  We have an old worn out version of this machete in our home and this summer Carlo and Ethan (our college intern) hand sawed this pendant out of a solid piece of metal and included a beveled knife edge and hook.  Of course, our son, Achille, wanted one immediately and then all of our friends started to notice and covet it too.  
So here is your chance.. we made a small batch, just for you, only for the holidays. Once they are gone we will only make them by special request. They come in two sizes a small and large and both sizes are available in 14k gold and sterling silver.  The handle is hand hammered.