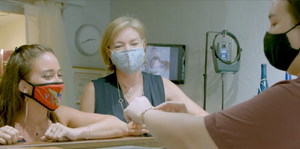 Virtual Styling Sessions with Joyia
For me, trying on jewelry is just like trying on jeans... I need to try them on in person and ask the sales associate, "How does my butt look in these?" Do you feel me or what? Now, I know that it is way more fun to fly to St. Croix, pop in the store, give hugs and try on all the latest jewels.  Trust me, I feel the same way!  However, COVID has taught us a few things and shown us there are new ways to do old things....
1. There is no time like the present...no need to wait for the things I want.  Especially, when they are meaningful, hand crafted and make me happy when I wear them. We are a global brand and can connect and ship to you wherever you are.
2. Are you very tech savvy? I certainly am not, however, I have been amazed at how this has pushed me to try things I've never tried before.  Technology is truly amazing and can help us connect in so many ways that I never thought possible and is far easier than I expected.  I mean after all, it pushed me to create these virtual styling sessions!
This is so cool....here's why!
• We get to see each other and catch up...without masks on!I will show you the newest collections.
• I'll stack bracelets, rings and necklaces so you can see what they will look like on you.
• You can be in your jammies and drinking a cocktail, no judgement here, cause girl....I would tell you if your butt didn't look good in those jeans!
•Did I mention, it's FREE!
This is so cool....here's how!
• Choose your 30 minute styling time on the calendar below, if these times don't work in your schedule contact me directly here and we can create a new time. 
• Pick your mode of communication (phone or video/zoom)
• Answer a few questions, so that I can have jewels laid out and ready to style when the session starts.
It's that simple...so go on and schedule below.  I can't wait to connect with you!
xoxo
Joyia