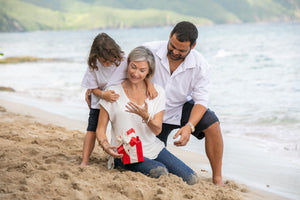 Our Holiday Hot Picks...
Check out the hot picks we have chosen for everyone in the family and let's put some Joyia Sparkle under the tree this year.
hot off the runway
The Gift of Eternal Joy
Following life's own blueprint for creation, The ETERNAL JOY collection is designed to deliver joy, healing, love, and positive change to the world. 
Wearing these jewels will help you generate growth, balance, and transformation. Just as sure as the earth turns; shapes in motion generate energy flow. The energy of this collection flows outward as it spins; similar to the rings spreading outward from tossing a stone into a lake. Set your intention and create a ripple effect of positive energy wherever you go.
Spin it and let's radiate JOY together!
hot off the runway
The Gift of Intention
Your Life Path Number is key to understanding and fulfilling your Life's purpose or mission during this lifetime. It symbolizes the talents, unique gifts, and tendencies you were born with and points to the strengths you will gain as you overcome challenges, learn karmic lessons, and evolve along your Life Path. Living in sync with your Life Path Number will heal your wounds, fulfill your heart, improve your relationships, and provide the ways and means to embrace your JOY and openly share it with others. The Life Path Number is the "reduced sum" of all the digits of your birth date—month, day, and year.
This is one of the most meaningful gifts you can give someone...just give us your loved one's birthday and we will do the rest...
hot off the runway
The Gift of Elegance
The Diamante Necklace is still the piece that I wear the most!  The 36" is the perfect length to dress up any outfit.  If I'm being real, I wear it with a t-shirt and jeans too. You will rarely see me without this necklace on...now I'm adding the Eternal Joy necklace with it and walking around like Mr. T...I can't help myself:)
The ring and earrings are perfect for any occasion too!
hot off the runway
The Gift of Being Unique
Squares are a part of our signature style and now they can be a part of yours! To square a number means to multiply it by itself, to square you, a person, means to help you live your best life and live to your highest will and good. We hope that this unique jewel reminds you of your true potential.
The Gift of Fun
Chain Bracelets are here... it's time to manifest the good stuff!  Now ALL of our collections, new and old, are offered on a chain.  These delicate yet strong bracelets help you bring forth the POWERS in your life you want to GROW.  Pick your intention for this year by choosing your favorite gemstone, Joyia charm, or get them all!
 Don't forget to share with a friend...couldn't we all use an energetic boost right now?!
These are great gifts for your children too!
hot off the runway
The Gift of Celebration
Champagne represents the decadence and effervescence of life's major milestones. Most people believe bubbles are for special occasions, we believe that every day is special. So, dance, laugh and love because LIFE is worth celebrating!
Gift to your loved ones to remind them that life is something to celebrate everyday.
hot off the runway
The Gift of Embracing The Journey
What path are you on? Sometimes it's straight and defined and sometimes you have to make a pit stop, change directions or swerve. Every twist and every turn was necessary for the next step on your journey to this present moment. Whatever the path...it's yours to make.
The Gift of Family
Our most loved his & hers collection,The Island Roots.Your family roots run deep just like ours, modeled after the tenacious mangrove roots, this organic design is fun for everyone. 
The Gift of Family History
The Sugar Cane Machete was such a hot pick last year, we thought we would bring it back again!
Carlo is a fourth generation crucian and spent many days on his great grandmother's plantation out west. Many of you know it as Prosperity, located on Mahogany Road in St. Croix.
The Sugar Cane Machete is special because it has a hook at the end for pulling the cane after it's been cut. We have an old worn out version of this machete in our home. Last summer Carlo and Ethan hand sawed this pendant out of a solid piece of metal. Carlo wears it everyday and of course Achille wanted one, then all of our friends started to notice and covet it too!
The Gift for Everyday Use
Are the men in your life not big jewelry wearers? Our handcrafted key chains are great alternatives. You can choose from any of our various charms, we can even personalize it by hand engraving on the back!